Links
Last Updated: November 16th, 2008
---
WARNING!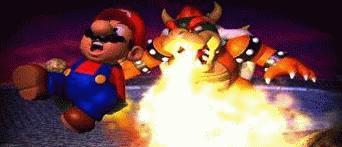 These links are HOT!
Any links to The Bowser Shrine would be much appreciated! If you would like to affiliate with The Bowser Shrine, Contact me!
Here is the link button for The Bowser Shrine:
---
Bowser Fansites:
(The lack of links in this section makes Bowser cry)
| | |
| --- | --- |
| Bowser's Keep | One of the first Bowser fansites I ever came across. Unfortunately, it is no longer being updated anymore, but it still has some interesting sections. |
| | |
| --- | --- |
| King Bowser's Realm | Another great Bowser site I found years ago. It also, unfortunately, hasn't been updated with any new content for a while. The site has an interesting theme and style to it, it's definitely worth a look! |
---
Bowser-related Links:
Mario Ragdoll Model
Pack for HL2
Inside this Mario ragdoll model pack for "Garry's Mod 10" (A downloadable third party modifiaction program for Half Life 2), there is incredible ragdoll model of Bowser. It is so accurate it may have even been a direct port from a GameCube game Bowser has been in. This model is depicted as Bowser's "GameCube Look", and is nearly a perfect replica. His ragdoll physics are also really superb. The author (??UnKnOwN??) even gave him a posable tail! I might have a section just on this Garry's Mod Bowser Model as it is so amazing and life-like. Check out a Screenshot!
| | |
| --- | --- |
| Ignorance is Bliss | This is a great recreation of Nintendo's old "Ignorance is Bliss" song, which I believe came on some soundtrack some odd time ago. For a Flash video the animations are excellent, and perfectly synced with the song. I will warn you before hand this song WILL get stuck in your head and never leave. Basically if singing top-hat Goombas don't do it for you... I just don't know what will... |
| | |
| --- | --- |
| Koopa Force | An absolutely stunning project done with 3D rendering. This trailer shows Bowser's latest plans to launch a new offensive on The Mushroom Kindgom. This must have took a very long time to make, but that effort definitely paid off. The production quality is so impressive, it looks almost official! |
| | |
| --- | --- |
| Realistically Painted Bowser | A remarkable rendition of a realistic life-like version of Bowser using digital art painting in Photoshop. This has got to be the scariest depiction of Bowser ever seen, hands down (or should I say claws down!). Bowser has been redesigned by the artist to look like a real animal, which is along the lines of a large, shelled, bipedal dinosaur. This is a totally awesome digital work, check it out for sure! |
---
Koopa Fansites:
| | |
| --- | --- |
| The Koopatorivm | Home of perhaps the most extensive Mario art gallery on the internet plus other Koopa-related stuff! Check it out! |
| | |
| --- | --- |
| Lemmy's Land | A site that's been around for a while already with quite a few sections. It's mostly dedicated to Lemmy Koopa. |
---
Mario Universe Fansites:
| | |
| --- | --- |
| The Mushroom Kingdom | Easily the largest fansite dedicated to the Mario Universe. You can pretty much find anything and everything here! This would probably be your number one stop for anything Mario! |
| | |
| --- | --- |
| Super Mario Bros Headquarters | A site made by Mario fans, for Mario fans. TMK and SMBHQ are the longest running and biggest Mario universe fansites out there. SMBHQ is the "Home for Paisanos Everywhere", don't miss it! |
| | |
| --- | --- |
| Super Mario Wiki | A collaborative knowledge-base about everything in the Marioverse! A spinoff of the Wikipedia, MarioWiki is a user-based information submission site, where fans can edit, touch up, or create Mario articles. You can find almost anything here whether it be about Mario games, facts, enemies... anything! Make sure to bookmark this wonderful Mario resource! |
| | |
| --- | --- |
| Toad's Castle | A good Mario site with a good fan section, game coverage, and some retro stuff. |
| | |
| --- | --- |
| Super Mario Legacy | A great Mario fansite with tons of sections and information covering all Mario games that have appeared on Nintendo systems. |
| | |
| --- | --- |
| Absolute Mario | A site where everything is absolutely about Mario! Relive your childhood by visiting Absolute Mario! |
| | |
| --- | --- |
| Purple Yoshi's Page | Perhaps the largest Yoshi fansite currently out there! Your one stop source for all things Yoshi! |
| | |
| --- | --- |
| Mario Party DS | This is an unofficial fansite containing everything about the upcoming Mario Party DS title for Nintendo DS. |
| | |
| --- | --- |
| Super Mario All-Stars | A compilation of all the great Mario games over the years in one website. The site is brand new, but is always expanding. It's already got articles, reviews, cheats, comics, and a respectable display of box art and screenshots from games old and new! |
| | |
| --- | --- |
| DS Ultimate | A fan site about Nintendo DS games as well as a place to discuss them. |
| | |
| --- | --- |
| The Castle of the Hybrid Goomba | A new Nintendo fan site where you can find information on Nintendo systems and games. Although the site is new, it's content will grow, similar to how The Bowser Shrine started off. The site also has a pretty sharp, clean looking design, which is important. |
| | |
| --- | --- |
| Super Mario Bros. 3 | A very informative site about Super Mario Bros. 3; arguably the best 2D Mario sidescrolling platformer ever! It was in this game that Bowser actually looked half decent as a sprite. It was also the game in which his mysterious 7 children appear as bosses! Amazingly this person was able to register smb3.com as a domain! |
| | |
| --- | --- |
| Mario Resource | Formerly Nintendo DS Resource, Mario Resource is a fan site devoted to bringing news and information about Mario, Mario games, and Mario media. Like a lot of fansites, it is still under ongoing construction, but is updated quite frequently. |
---
Official Nintendo Sites:
---
Nintendo-related Sites:
| | |
| --- | --- |
| Miyamoto Shrine | A fantastic fansite dedicated to Shigeru Miyamoto; the creator of Bowser, as well as so many other great Nintendo characters and franchises like Mario, Zelda, StarFox, and Donkey Kong. |
| | |
| --- | --- |
| The Sky Temple of Lugia and Articuno | After creating a music video dedicated to Charizard (another of my most favourite characters) 4 years ago, a huge fan of Articuno contacted me about how much the video inspired her to make a dedication video of her own, which she later did. Shortly after, she built a huge fansite dedicated to Articuno which had gorgeous design and beautiful coding. That website also served as a source of inspiration for me and what I wanted to do with my Bowser fansite. So it's interesting how we both inspired and motivated each other. Here is a link to her huge Articuno and Lugia honouring site. |
| | |
| --- | --- |
| Kong Country | Even before Mario, there was Donkey Kong! Well, this site isn't about the original Donkey Kong Arcade, but the SNES classic Donkey Kong Country. There are tons of screenshots and lots of information here. |
| | |
| --- | --- |
| Nintendo Addict | If you are addicted to Nintendo like I am, you're always looking for a place to share your addictive obsession! Nintendo Addict is a Nintendo message board that allows fans to share their ideas and similar interests. It is thankfully quite active with posts everyday, so stop on by! |
| | |
| --- | --- |
| NintendoLand | NintendoLand was a Nintendo enthusiast website launched in 1997 that offered fans a nostalgic journey down memory lane. To date, it was the most addictive website I have ever been addicted to, and I spent so much time visiting there during my teenage years. From its great action filled deathmatches, great fanart, and a way too addictive forums, NintendoLand was the reason I survived the summer waiting for the launch of the GameCube. I think on NintendoLand's parent forum VGF (Video Gamers First), I amassed over 3,000 posts (most of them about raving about Bowser of course). Sadly over time, NintendoLand began dying off, and then one day died completely. After years of inactivity, it has been remade by Angry_sun! Check out one of the oldest Nintendo fansites that has existed on the web! |
---
Video Game Sites:
| | |
| --- | --- |
| Hitchhiker's Guide to Video Games | A great video games site based mostly on Nintendo's major franchises. It has a very informative encyclopedia, active forums, and a large collection of images in the gallery. Many rare Bowser character renders I thought were lost forever over the earlier internet years I was finally able to find at this site! |
| | |
| --- | --- |
| replacementdocs | This is an excellent website for downloading game manuals. You can find high quality scanned images of instruction manuals in their full, original format with all original artwork and other graphical elements intact. I've downloaded some Mario game manuals to get some of the more rarer Bowser renders from some of the earlier Mario games. I was then able to take a screenshot and then cut out the image in an image editor. This site helped me a lot to get some of the older Bowser character artwork. |
---
Miscellaneous Sites:
| | |
| --- | --- |
| deviantART | A huge website that hosts over 41 million artworks and fan art (and growing!). You can find over 6,000 fan art pictures of Bowser using deviantART's great search tool. Back in the day, you had to pay for a DA subsciption to be able to use the search tool, which I was perfectly willing to do to get Bowser fanart pictures! Now it's free for general use. A great site for art, check it out! |
| | |
| --- | --- |
| Wikipedia | The Wikipedia is simply the ultimate source of knowledge. Any time you are on quest for knowledge, or wish to look something up, you will most likely find the best up-to-date information from it's 2.1 million articles. It is quite a privilege to have such an enormous wealth of information offered for free, that can be looked up anytime. I have donated a small amount to the Wikimedia Foundation to thank them for their great service. I even used it to search up some Bowser information and to use as reference when I was working on the Bowser Info sections. Make sure you always keep the Wiki in your bookmarks, it is an excellent resource. |
| | |
| --- | --- |
| StatCounter | A free yet reliable invisble web tracker, configurable hit counter, and real-time detailed web stats service! This fantastic free service offers more than most pay-only services, all without a catch! Not only is it free, but without ads as well! The creator made StatCounter not to make a quick buck, but to help other webmasters be more successful by understanding their traffic and visitors. This tool has everything I have always wanted to have for The Bowser Shrine... and then some! I wish I would have found it a long time ago! As my thanks to such a great free service and to the creator's generosity, I have posted this link to let every webmaster know not to miss out on this great resource! |